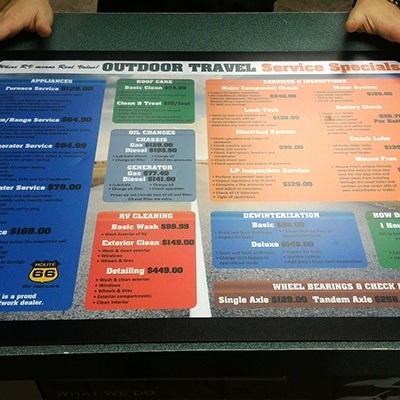 Wall, window, and counter graphics can be a part of the marketing strategy for your business.  This can be especially true if you have a new product or special offer to promote.  High-quality graphics can help you create remarkable visuals that will draw your customer's attention, which can play a big part in your business's success. Let DCM show you how to create a temporary peel and stick POP display when your prints to not have a pressure-sensitive adhesive backing.
DCM Duplex
DCM Duplex is a specialized product which consists of a 3.5 mil, flexible vinyl which is adhesive coated on both sides.  You can turn any commercial print into a peel and stick, removable graphic by peeling back the liner from one side of the Duplex to adhere your graphics by applying your graphic to the exposed, adhesive side and applying pressure to the printed side of the graphic.  When you're ready to apply your newly created peel and stick graphic, simply remove the reverse side's liner and apply your graphic to the desired spot.  DCM Duplex features the same tried and true Magik-Stik microsphere adhesive system used in other DCM products.  This means when it's time to remove your graphic, you get the same easy, residue-free removal you've come to expect from DCM's line of peel and stick print media.  Here are a few examples of how DCM Duplex can be used:
Display Menus
Display menus can be an integral part of advertising within a business.  A well-branded display menu can help to create an instant connection with clients.  Using our DCM Duplex, regular printed menus can now be securely displayed virtually anywhere.  Large scale display menus can now be professionally displayed on windows and walls to allow you to make large enough menus where you have the room to include not just dishes, but also the ingredients and nutritional information.
Point-of-Purchase (POP) Displays
POP displays are physical displays used to advertise products in retail stores to encourage potential clients to purchase.  You can use them to promote special offers on specific merchandise to shoppers.  POP displays are often located close to the checkout counter to inspire purchasing decisions.
DCM Duplex can be combined with your printed advertisements to be applied in specific areas within a store.  A common example would be a countertop/checkout display.  These graphics can be used to emphasize specific offers or products, or provide information or instructions to improve shoppers' in-store experience.  These displays can boost sales once the customer is in your store, or speed up transactions by instructing the customer to have their ID or payment method ready when approaching the counter.
DCM offers a wide range of affordable products to meet your advertising and in-store display needs.  By using DCM Duplex, we can help your provide your customers with the best POP displays.
We are the industry leader in Peel-n-Stick media.  Our line of materials are manufactured in the U.S.A. to meet and exceed your company's expectations.  DCM Duplex allows you to stick your graphics anywhere.  Tell us about your job, and we can help you pick the best product to make your project succeed.