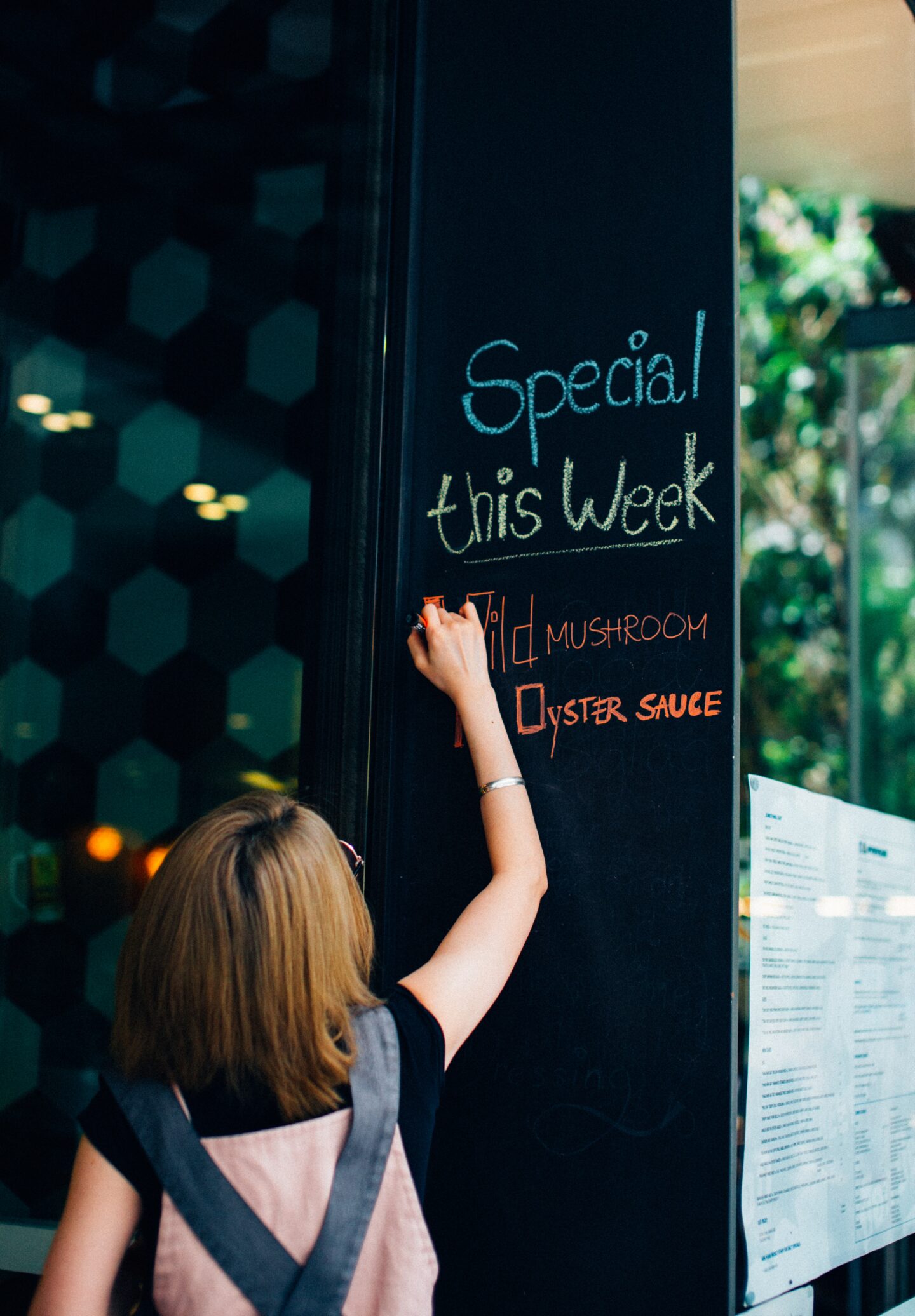 Vinyl wall graphics can be applied on smooth, dry, and clean surfaces to turn them into chalkboards. You can easily reuse your vinyl chalkboard by wiping off the surface, peeling, and repostioning in a new location. DCM's proprietary line of materials allows you to stick your chalkboard anywhere. Here are places to use a removable vinyl chalkboard:
Business Advertisements
The vinyl chalkboard can be helpful for businesses looking to create easy-to-use, dynamic, and flexible signage. They're perfect for use on walls or doors to create advertisements or presentations. Whether you want to launch a new service or product or get your brand known, removable vinyl will bring attention to your key message. Chalkboard vinyl will increase your brand exposure to help you grow your customer base, increase sales volume, and attain your business goals.
Advertising using wall graphics educates your clients on how your services or products can help them. When your target audience knows more about your company, they will have a stronger connection to your business which helps to build customer loyalty and trust.
DCM Inc. is your go-to company for peel-n-stick wall graphic media. We have been offering our clients quality peel-n-stick printing materials for over three decades, and our products will allow you to stick your print job anywhere.
Restaurant Menus
Restaurants usually offer weekly or daily specials. They can use a removable vinyl chalkboard to advertise their rotating specials to customers. Restaurants can also use chalkboards to showcase new or changing menu items. All they need to do is wipe the chalkboard, rewrite any notable changes, and stick the vinyl chalkboard on an easily visible wall.
Sometimes great menu ideas come to restaurant staff suddenly and need to be written down. With a removable chalkboard, you can quickly write down your wildest ideas. When the chalkboard is full, take a photo of it to save the ideas, wipe it clean, and reuse it again.
Our specialized Chalk-Stik product is perfect for your chalkboard needs. Give us the details about your project and we'll provide you with a personalized quote.
Children's Playrooms
Add removable vinyl chalkboard to the walls of the playroom in your home or daycare. Kids can let their creativitiy flow with chalk and easily remove their own designs. No scrubbing necessary. Our vinyl chalkboard offers endless creative possibilities.
At DCM Inc., we offer a variety of wall graphics with our water-based Majik-Stik adhesive system to brighten up any room and add personality to any surface. Peel, stick, remove, and redecorate your space.
Buy Wall Graphics From DCM Inc.
Contact DCM Inc. for all your wall graphics needs. DCM Inc. is an industry leader in peel-n-stick wall graphics media. We custom convert our materials to match the unique requirements of each clients' order. Whether your print job requires hundreds or thousands of vinyl sheets, we'll provide you with the level of service and quality materials your business demands. We supply our products to a broad range of printers, including sheet-fed and wide-format digital, gravure, offset, flexographic, and screen.