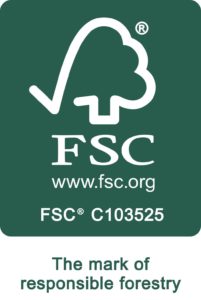 We are pleased to announce that DCM's Removable Wallpaper product (5 Mil White Magik-Stik Removable Vinyl on 50# Liner) is now recognized as an FSC® Certified product!
FSC (Forest Stewardship Council®) International is a non-governmental, not-for-profit organization which promotes responsible management of the world's forests.  As a certified member, DCM's Chain of Custody (CoC) certificate ensures that wood products used in the construction of our Removable Wallpaper are sourced from FSC certified forests.  This means the release liner of our Magik-Stik Removable Wallpaper has been responsibly sourced and can be accounted for from the forest all the way to consumer.
As the market for Removable Wallpaper products continues to grow in the U.S. and around the world, DCM is proud to meet the market's demands while providing a product that is environmentally appropriate, socially beneficial, and economically viable.
To learn more about FSC, click here.